EUFONICO® BALSAMIC VINEGAR 35 YEARS
Matildis®
the tradition and innovation encounter
EUFONICO® BALSAMIC VINEGAR is the perfect balance of two elements: DENSITY and ACIDITY to achieve an exceptional HARMONIC RATIO.
EUFONICO® indicates the pleasant result achieved by the combination of different sounds.
The extension of its meaning embraces the concept of ARMONY, the fundamental characteristic of a "true" balsamic vinegar.
The main core of Matildis® philosofy.
NOBILITY
Matildis is a tribute to the history and tradition of traditional balsamic vinegar. 1046: the Emperor Henry III asked Boniface, Marquis of Tuscany and father of the Countess Matilda of Canossa, for a special vinegar that was produced in the fortress. Boniface sent the vinegar in a specially made silver cask.
TRADITION
Millenary tradition of product withdrawal process, decanting and topping up from cask of different capacities and woods such as chestnut, mulberry, cherry, black locust, ash, oak.
INNOVATION
The ninenteenth-century vinegar cellar, enlarged and restructured with innovative materials. Water impermeability, with natural ventilation of the premises to foster the best thermal excursions, favoring a slow fermentation and acetification.
The world's first completely underground.
NATURE
Monoingredient: 100% natural must of native grapes of Modena, cooked and certified by the method of the millenary tradition.
QUALITY
Bottled and packaged by hand with the corporate seal of certification in high quality sealing wax. A hand-written and signed certificate guarantees both the limited numbered series and the physical characteristics (A, B and R) of every bottle, measured continuously with internal laboratory equipment.
www.facebook.com/balsamicomatildis
EUFONICO® BALSAMIC VINEGAR 35 YEARS
TASTING
Intense brown colour, thick and brilliant. Characterised by fine balsamic aromas, full and prolonged, with balanced acidity. Full-bodied and intense, with an exquisite flavour. It goes well with fresh pasta, roasts, meat fillets, fish, foie gras, but also with Parmesan cheese, eggs, ice cream, strawberries and champagne. It can also be savoured as a dessert at the end of the meal, or alone as an elixir of life.
PRODUCTION 2014
380 bottles
B (sugar density) = 70,8 Brix
A (acidity) = 8,4%
R (harmonic ratio) = B/A = 8,5
BOTTLE CAPACITY
50 ml (1.6 fl. oz.).
ACCESSORIES
The packaging includes a blown glass doser with cork.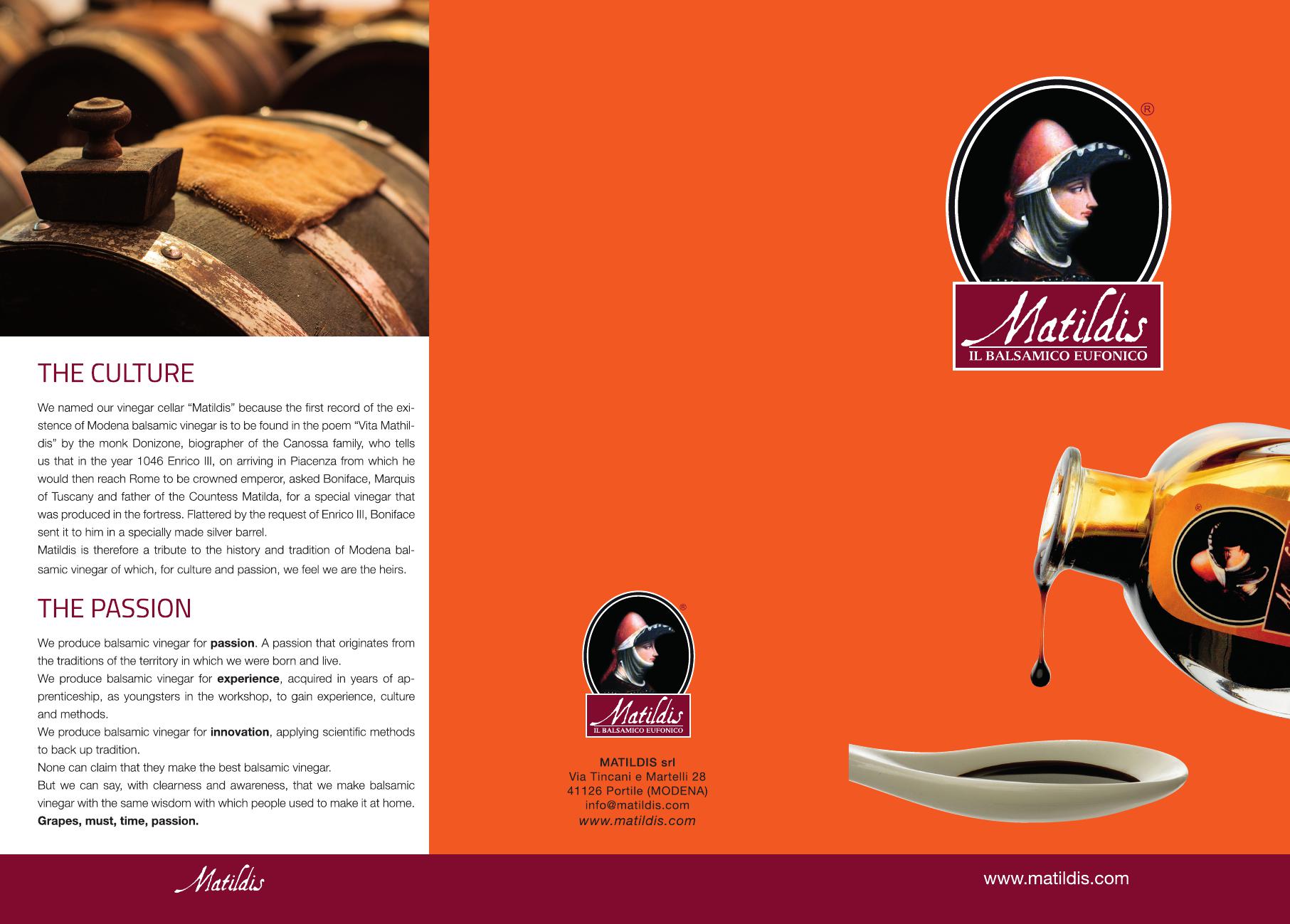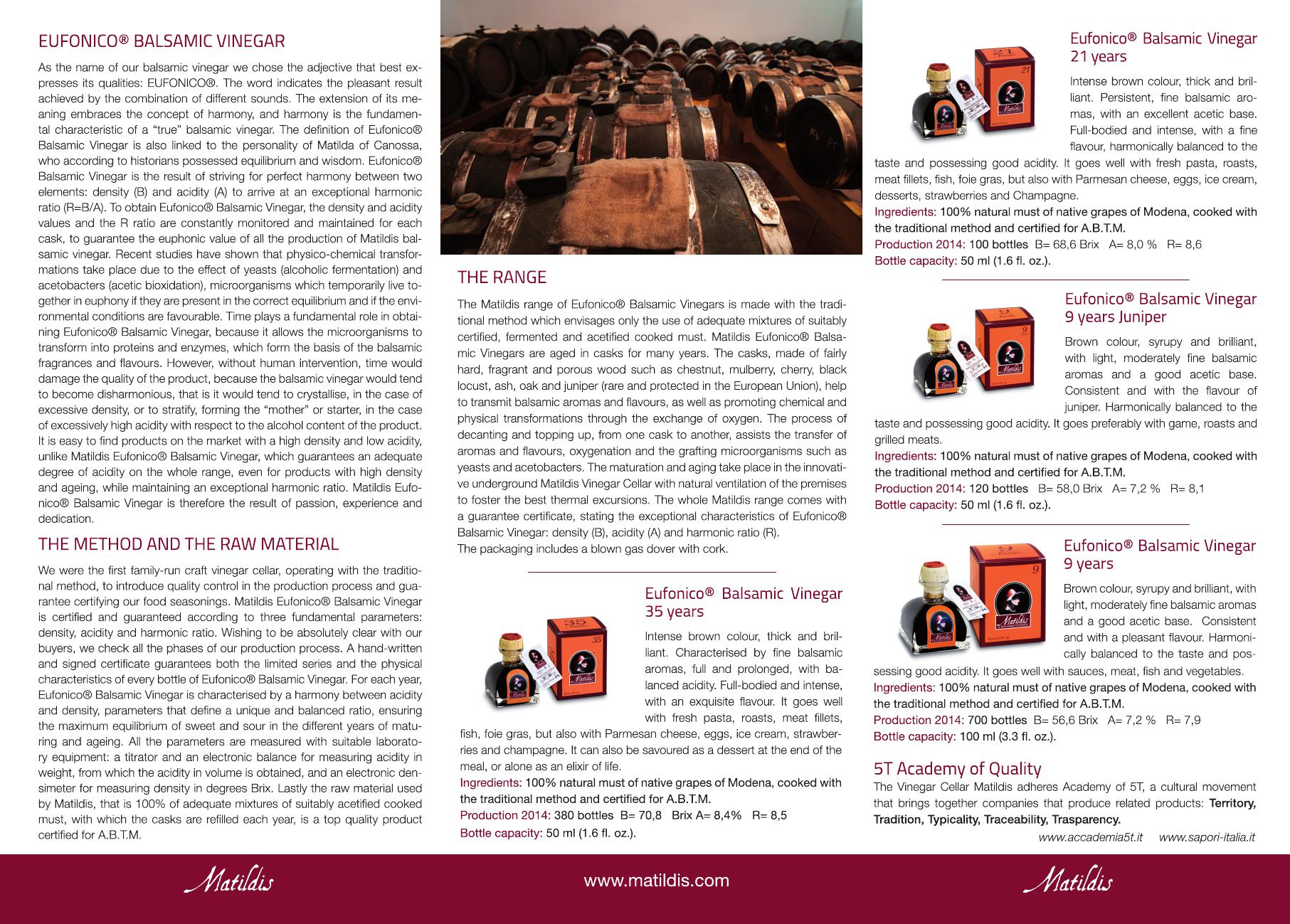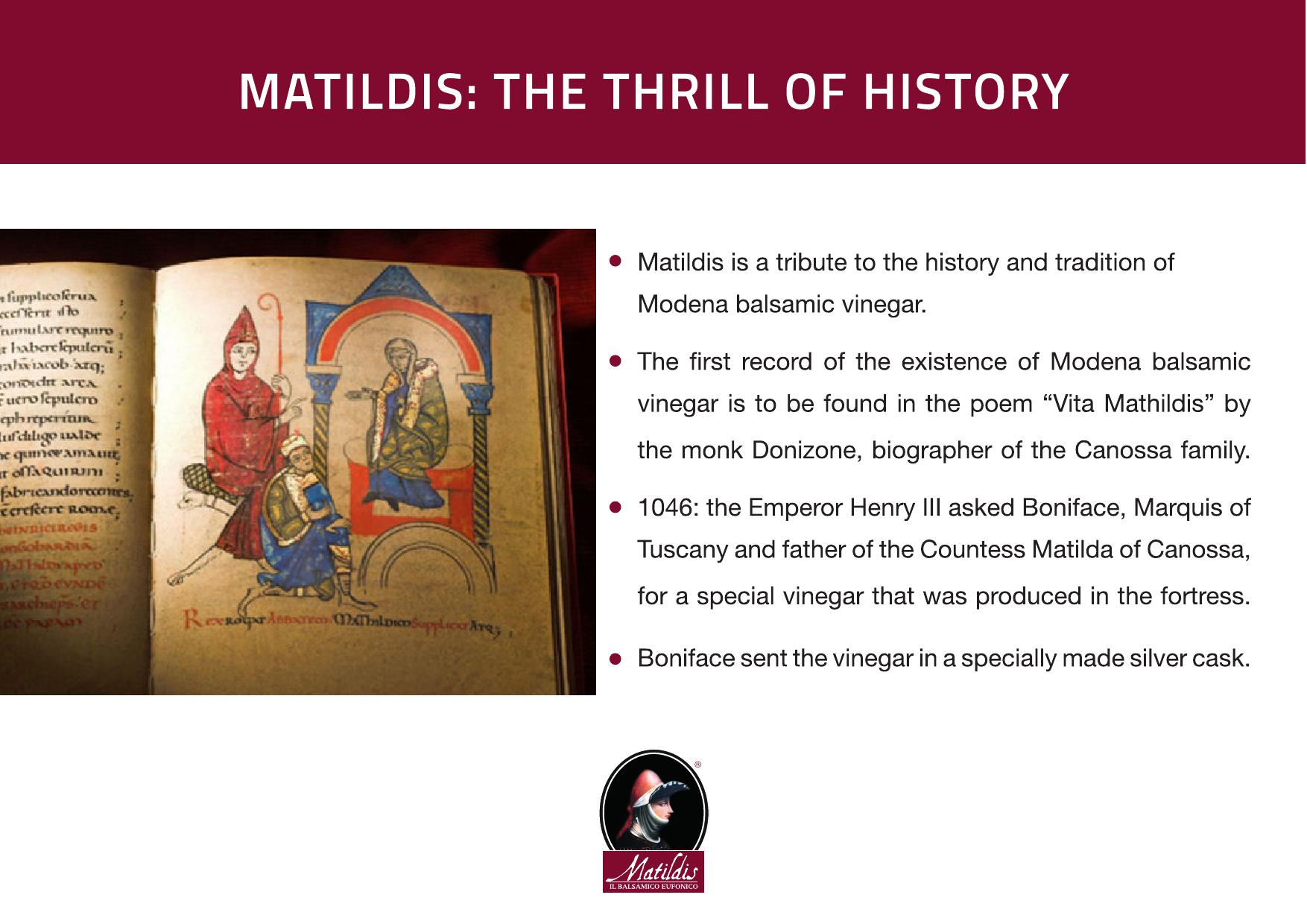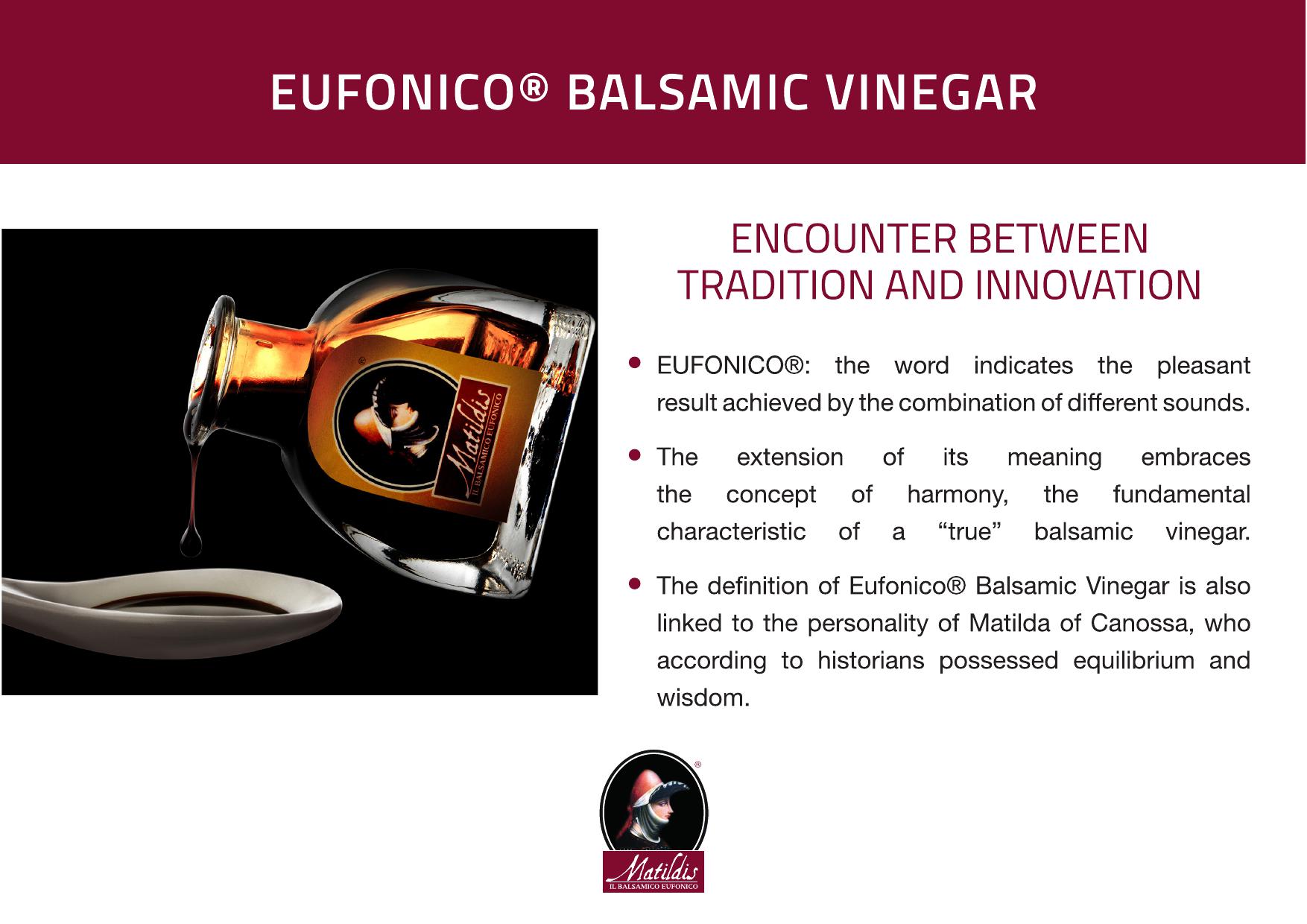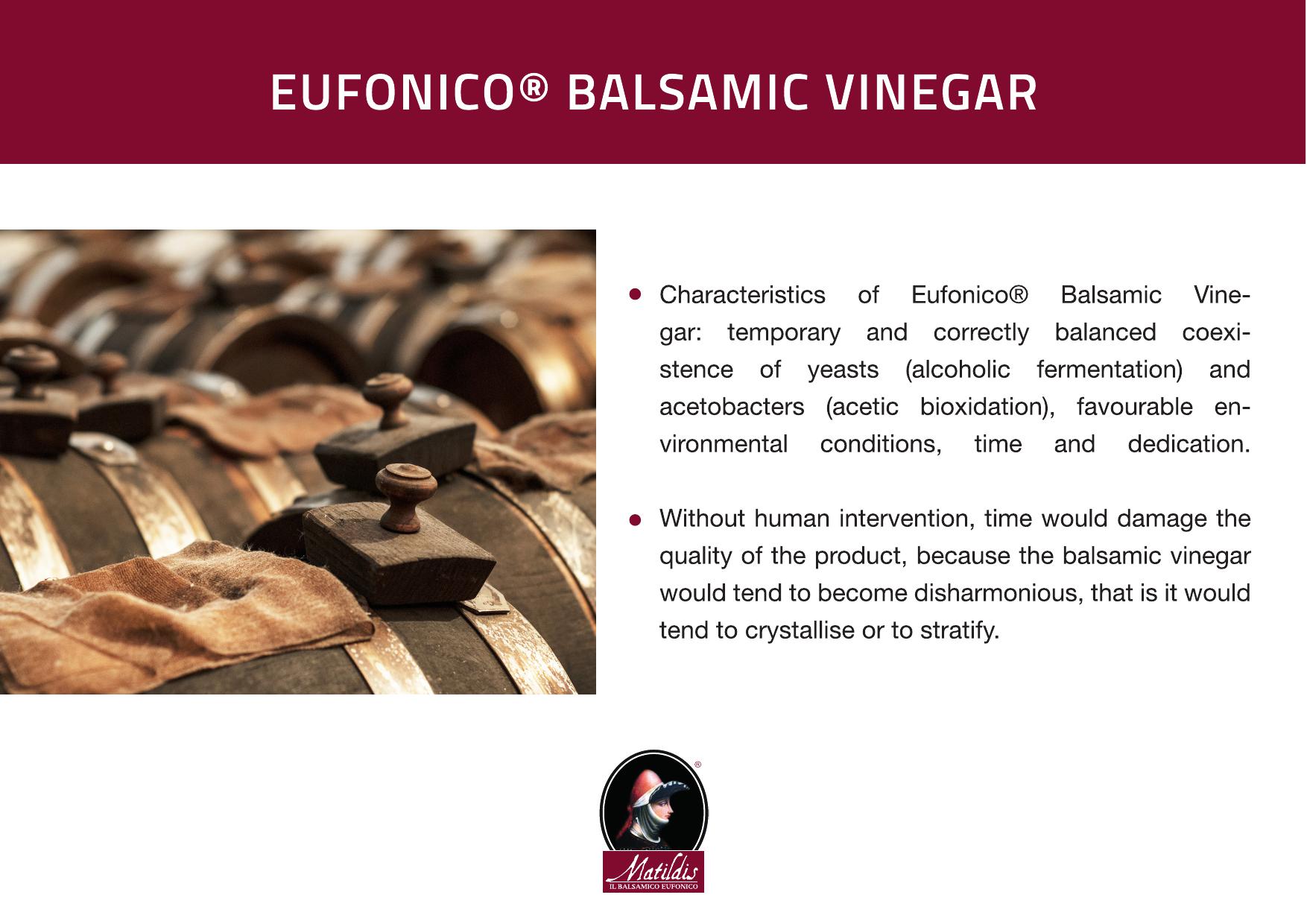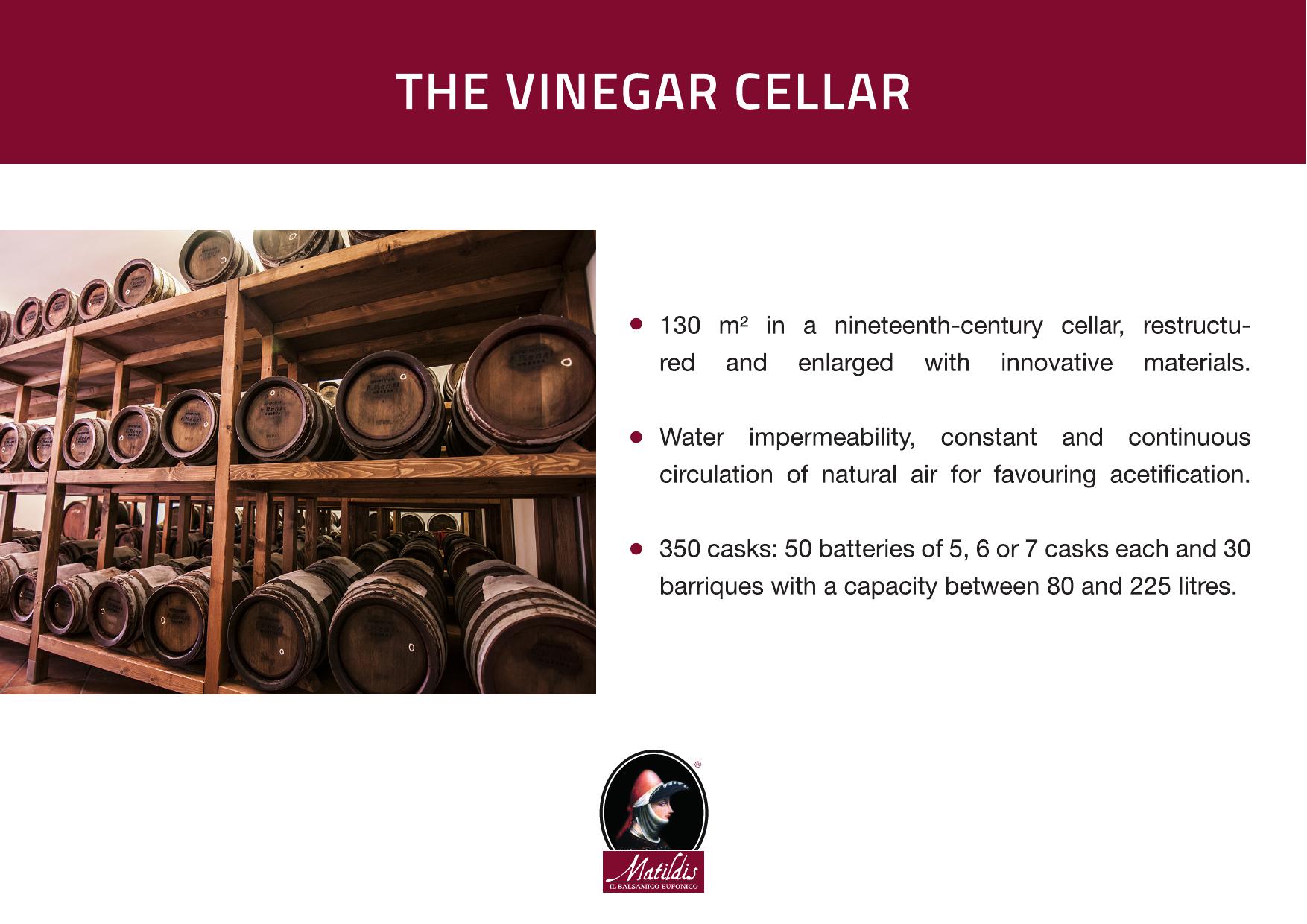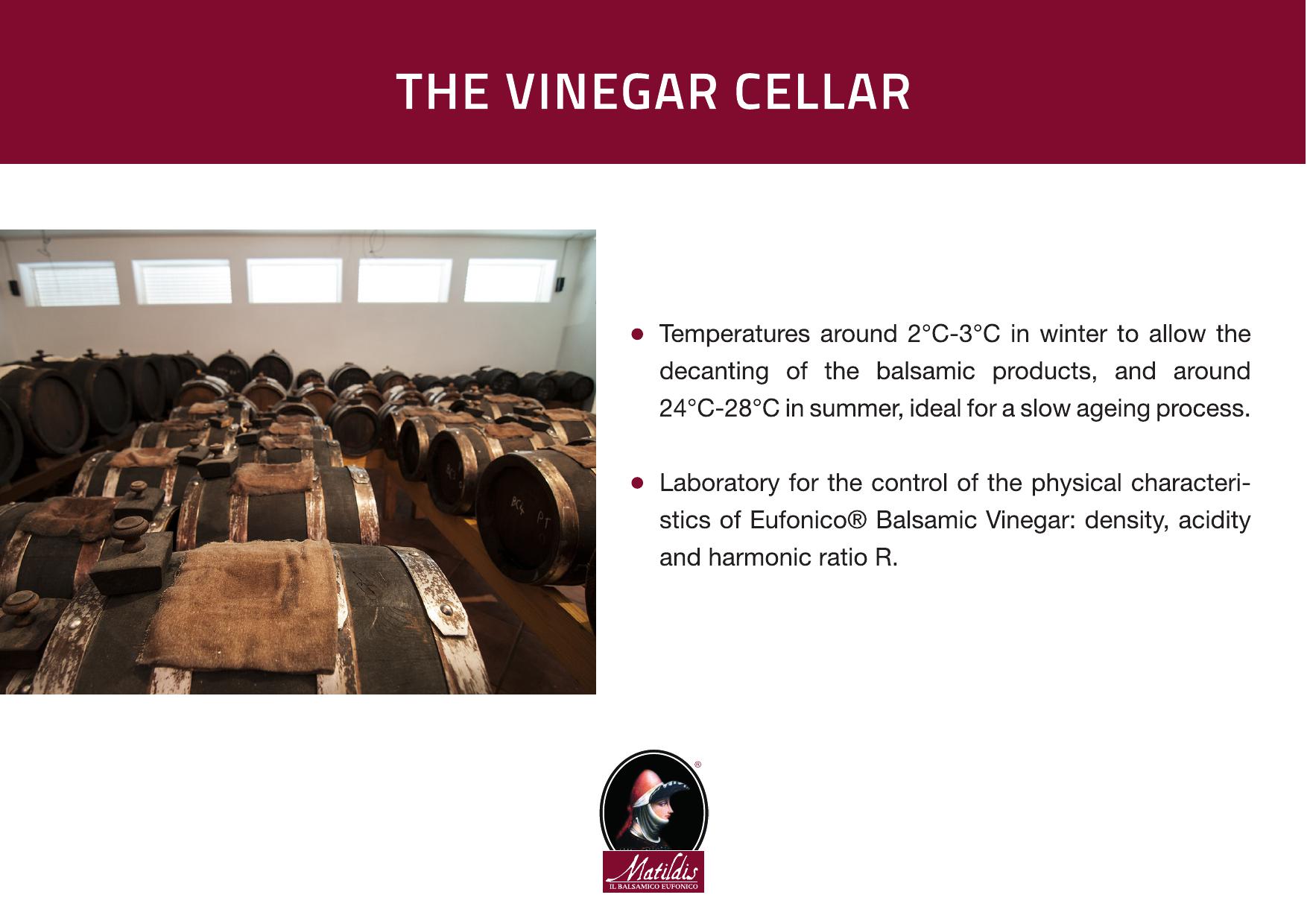 如果您对本商品有什么问题或经验,请在此留下您的意见和建议!